ON DEMAND CONTENT:
JAN. 4 & 5TH, 2021
COMING SOON:
MARCH 25-27TH, 2021
SPRING 2021 CONFERENCE FAQs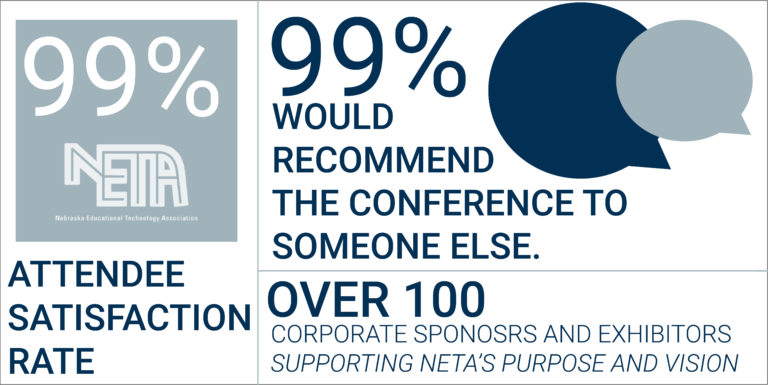 Why Attend?
You need effective tools that engage students and enhance your curriculum. The NETA 2021 Spring Conference Series will showcase informative learning opportunities to create your own personalized experience. Join the event live on January 4-5, February 15-16, and March 25-27 to learn from speakers, network with one another and visit with exhibitors. All sessions will be recorded for you to continue learning throughout each month until May 1, 2021.
Benefits


•

Create your personalized schedule.


•

Access to more content throughout the series to view recorded or on demand sessions 24/7 until May 1, 2021.


•

Learn in smaller increments. Pause an on demand session to take notes, or skip ahead through content you may already know. Still have questions? Rewatch it or direct message a presenter in the platform to ask your question or set up a time to video chat.


•

Learn, try it out, and then come to the next series to share or ask questions


•

Speak with a vendor, do some research, and connect with them again the next series or send a message to the vendor by selecting the register interest button and the vendor will be sent your name and email to follow-up with you. 


•

Initiate a one on one video chat meeting with a friend or someone you follow on social media in the platform Hopin by searching for them in the event people tab and selecting invite to video chat.

Conference Pricing Information
Full Conference Series: $169 (

ONE great conference, delivered in THREE great parts!)




Presenter: $49 (

Session proposals are still being accepted  – https://netasite.org/2021submit)
If registering a group of 10 or more on the same PO, check or credit card you receive a discount of $10 off each full conference registration.
NETA offers a student conference pass (for full-time Higher Education students, not for K-12) for $19.
School board members are able to register for the conference complimentary. Please contact Member Services at memberservices@netasite.org for more information.
*Registrations can be transferred to another colleague in the event you are unable to attend the NETA 2021 Spring Conference Series.  No registration transfers or refunds will be given after January 1, 2021.